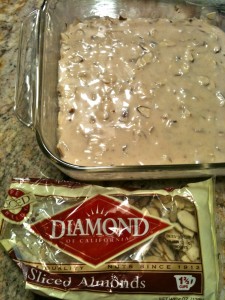 This is a fun experiment! I saw a recipe for white fudge (AKA: Opera Fudge). It seemed like it would be a wonderfully adaptable base recipe. I could mix in flavorings, fruit and nuts, even peanut butter, and it could be a different fudge each time. This was my very first time making fudge. I didn't like the "beating with a wooden spoon for 10 minutes" part. But, I survived.
I put Jasmine tea and raw vanilla bean into the milk and let it steep for a long time. I strained out the tea leaves and the vanilla bean.  Then I followed the whit fudge recipe. In the end I thought that the recipe was very sweet, even though I doubled the salt content. I was going to add the almond to decorate the top of the fudge after I had cut it into one inch squares and dipped it into dark chocolate. I decided to mix some extra sliced almonds into the fudge itself… it cuts the sweetness a little more.  I'll probably still decorate the dipped fudge with a little bit more of the sliced almonds. I hope I remember to take a photo of the finished product. Life is pretty hectic these days!
Oh – I licked the spoon. Lovely jasmine & vanilla flavor! Not too strong… but the fudge is still quite sweet.