Some of the tools and supplies that I ordered have arrived.  Here are some photos of my first round of experiments. I was fairly pleased with the items in the top photo.  In the future I will try crushing the strawberry into powder. I think that will be more attractive. I was in a hurry.  I'd like to let the chocolate drip more next time so the foot of the nugget is smaller.  On the left is a 1/2 marshmallow dipped in dark chocolate, with a tart strawberry slice on top.  The strawberry is freeze dried & has a crunch.  The piece on the right exhibits my need to try using a "transfer sheet".  The sheet has a pattern on it.  The pattern sticks to the chocolate once the chocolate is hardened.  The inside is walnut and caramel.  The caramel came from the supermarket.  It is too sweet.  I plan to learn to make my own caramels in the future.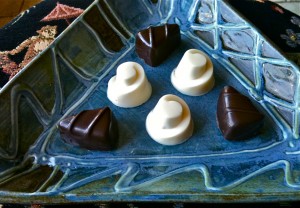 I was more pleased with my adventures in molded chocolates.  The chocolate was perfectly shiny, and perfectly shaped, when it came out of the mold.  My 2nd try came out even better than my 1st try.  I learned that it IS important to fill the mold completely, and then scrape the top of the mold.  This way the bottoms are as perfect as the shape and the shine.  I was surprised that it made so much of a difference. It is worth the extra chocolate and the mess.
The white chocolate contains crunchy mango nuggets and cashew.  The dark dark chocolate triangles contain a healthy chunky of spicy ginger.
I was so very pleased with my first round of experiments. I can't wait to keep playing. (And I have some more gadgets on the way!)